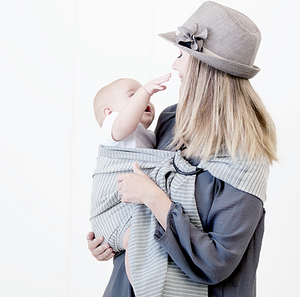 Moby Wrap
MOBY Ring SLing (Silver Streak)
Regular price
$119.90
$0.00
Tax included.
The MOBY Sling is the newest addition to the MOBY line of products the perfect combination of comfort, simplicity and style. An elegant yet intuitively designed carrier, this ring sling is adjustable and customizable to all caregivers and babies. Easy to use and wear, and easy on the budget. The MOBY Sling is proof that form and function can exist in harmony! A stylish carrier that everyone is excited to wear, in a perfect palette of gender-neutral colors and simple stripes. The perfect choice for all parents.
Alternating gray and light gray stripes, made from 100% woven cotton, with black rings
Age: Baby to Toddler
Weight range: 8-45 lbs
Parent fit: XS-XL
Material: 100% Woven Cotton
Guided Edge - One edge of the Ring Sling has been hemmed up, instead of down, so that there is a tactile difference. Use your fingers to find the Guided Edge and then pull the fabric through the rings to tighten..
---
More from this collection