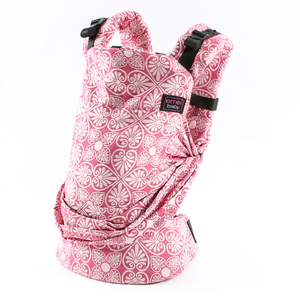 Emeibaby
Emeibaby Hybrid Baby Carrier Full Siri Rose
Regular price
$150.00
Sale price
$289.90
Tax included.
Used for photography.
Emeibaby Full Siri Rose Baby Carrier is a "Made in Europe" Hybrid backpack baby carrier. The Emeibaby Carrier combines the versatility of woven baby wraps and ring slings with the ease of use and support of ergonomic backpack carriers. The result is a baby carrier that offers the babywearer the advantages of all three.
The Emei Baby Carrier is designed for newborn 3.0kg onwards, up to 15kg, about 3 years old. All Emeibaby carriers are wrap conversion carriers.
The Emei Baby Carrier Full Siri Rose is a Special Edition full wrap conversion carrier that is entirely made from 100% organic cotton woven wrap material in blue & light yellow with traditional wave shaped patterns, including shoulder straps & belt.
*Note: Photos used are to help showcase the carrier's design and color. The carrier size used in the photo may be the baby size or toddler plus size. For better understanding of carrier sizing and differences, please refer to carrier comparison.
---
More from this collection