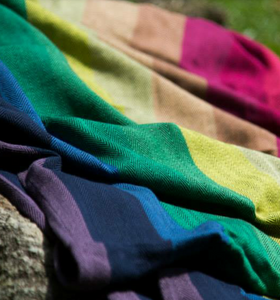 Wear Weave Love
Bebe Sachi Rona Prisma Woven Wrap
Regular price
$179.90
$0.00
Tax included.
Deposit: $150
Rental Fee: $29.90 / 2 weeks
(Wrap and Ring Sling are available for purchase under Buy Weave Love)
Wrap qualities:
Weight: 197gsm
100% cotton
30 inch width
Jacquard weave (Zig zag pattern)
NOTE: This product is exclusively handloomed. There may be small irregularities which are expected in the fabric, such as colour differences, uneven weaving, weaver's knots, nubs/slubs, runaway threads etc. These are NOT flaws or defects and do not affect the safety & quality. These naturally occurring variations only makes it special. The level of artistry and intricacy achieved in handloom fabrics are unparalleled and unique, which makes it worthy to be handed down from one generation to another.
Rona in Malay translates to Colour. This wrap represents the colours of the rainbow (the spectrum). Imagine the component parts of light that comes out from a glass prism! Designed with those who'd like to give wrapping a try, has easily recognisable teaching rails and wrapping qualities that appeal to both new and experienced wrappers.
---
More from this collection